The performance of single girder overhead crane motor
The performance of single girder overhead crane motor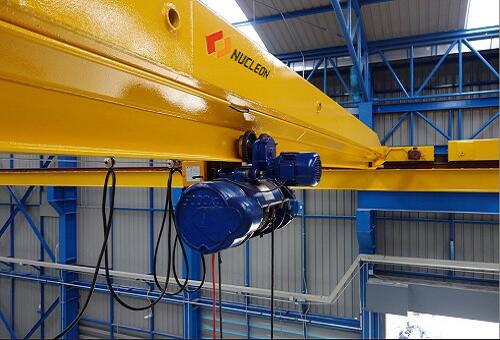 Single-girder overhead crane selection: Soft start the motor.
1. This series of motor soft start characteristics, do not connect resistor, don't take other technical measures, direct power transmission can be obtained "soft start" effect. The motor itself with plane friction brakes, brake speed is adjustable. Equipped with this kind of motor , there is a marked improvement in the "shock" phenomenon when the overhead crane starts and stops. This is to seek the ideal working state of overhead crane industry.
2. The shock free operation of the overhead crane prolongs the service life of the motor and related mechanical transmission mechanism.
3. When the motor works, no axial movement, the utility model has the advantages of reliable work, low failure rate, simple adjustment and convenient maintenance.
4. Motor starting current is small (is 1/4 to 1/2 of the ordinary motor), meet the needs of frequent starting, power saving effect is remarkable, small starting current can prolong the service life of main control ac contactor. Can be used in power capacity under the condition of less.
5. The overload capacity of the motor is strong, even if the stall (hold car) 5 minutes will not burn the motor.
6. YSE series single speed, double speed motor power level, installation dimensions and overhead crane original matching motor, can be directly interchangeable.
7. The motor is directly powered by 380 volts. The control is simple and convenient.
8. Instead of winding rotor motor can save the external resistor and the cam controller can realize the ground operation control components, reduce manufacturing costs and maintenance costs.
9. Motor installation type: B3, B5, B35 (horizontal, vertical, horizontal), so as to adapt to the needs of the various installation conditions.
10. High motor frame number: center: 80 ~ 250 mm, power: 0.2 ~ 45 kw