Single-Rail Hoist
The Nucleon Single-Rail Hoist
The low-height Single-Rail Hoist offers the greatest number of new features compared to the hoists on the market, thus having a number of advantages that make them even more reliable, safe and with lower maintenance costs.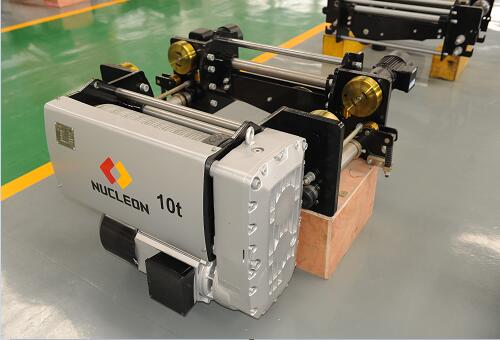 Single-Rail Hoist tachnical data:
Single-Rail Hoist, standard weight is 1~12.5T, standard lifting height is 6m, 9m, 12m. Double rail trolley and fixed type , standard weight is 3.2~80t, with the auxiliary hook, the lifting capacity configuration is 10/3.2~80/20T , standard lifting height up to 18m. Running speed: 2~20m/min stepless frequency control, standard lifting speed is 5/0.8M/min and can also select the frequency, electric hoist, smooth braking, small crane swing, positioning accuracy, improved performance greatly. The electric hoist design basis working grade is M5.
If you have Electric Single-Rail Hoist service or parts needs please contact with us Email:info@nucleoncranegroup.com or WhatsApp+86-18637120986. We are here for you