Single Beam Overhead Crane
Single Beam Overhead Crane is characterized by more reasonable structurer and higher strength steel as a whole, used together with electric hoist as a complete set, it is light duty crane with a capacity of 1 to 20 tons. The span is 7.5-28.5M.Working grade is A3-A4.Working temperature is -25℃~40℃.
Single Beam Overhead Crane is applied to do common lifting and unloading works, this kind of crane is composed of bridge framework, crane traveling mechanism, electric equipment( electric hoist) , strong lifting mechanism, the frame uses boxed-type welding mechanism, Power is supplied by cable or slide wire.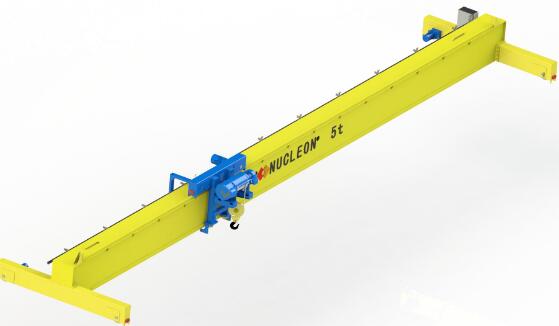 Single Beam Overhead Crane has two operational methods, ground or operational room which has open model and closed model and can be installed on left or right side according to the practical situation. And the direction of entering the gate has two forms, sideway and ends in order to satisfy the users, choice under different condition.
Single Beam Overhead Crane is a regular crane widely used at open ground and warehouses to load,unload or grab materials.It has two controlling methods,namely ground,controlling and room controlling.
Security of Single Beam Overhead Crane 1-20t:
1. Reducer anti-fall, anti-lock;
2. Outdoor hoist with a rain cover;
3. Alarm indicator;
4. Infrared anti-collision.
Nucleon mould lifting Single Beam Overhead Crane is used together with CD MD model electric hoists, thus can finish the single speed / double speed lifting of crane.