Double Beam EOT Crane
Instructions for Double Beam EOT Crane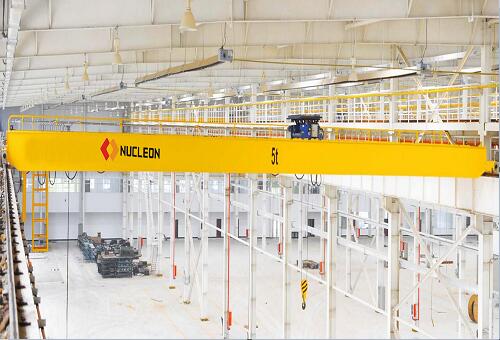 1. This series Double Beam EOT Crane only list the general crane with basic specifications, including the standard span at working level A5 (FEM 2m) and indoor crane without auxiliary hook. Customers can make relevant requirements according to their demands.
2. This series Double Beam EOT Crane can add to auxiliary hoisting mechanism, and also the speed double if run with light load. Ordinarily, the setting of the main and auxiliary should be 4:1, which also be set in accordance with requirements of customers. It will increase the total weight and wheel pressure if adding to auxiliary hook.
3. Dimensions, weight and wheel pressure in table will be reference for ordering of customers. If requirements of customers get changed, such as some changes occurred to working level, speed and lifting height, the relevant parameters, dimensions, weight and wheel pressure will also get changed. The actual parameters, quality and wheel pressure should subject to the requirements in contract.
4. Lifting speed, speed of crane and trolley traveling listed in table are standard values, which can be correspondingly regulated according to demands of users.
5. Technical parameters and dimensions would be changed as with improvement or upgrade of technology. Please contact with technology department in Nucleon Overhead Crane if any questions.
Nucleon Overhead Crane is whole-owned subsidiary of Nucleon Crane Group, which is China Overhead Crane Factory, main product: Overhead Crane, Gantry Crane, Electric Hoist and Winch. founded in 2005, the registered capital of 270 million Yuan, covers an area of 450000 square meters, There are 1700 staff in our company and 400 people of them are sebior and medium technicians. We are specialized in manufacturing Gantry Crane, Overhead Crane, Jib Crane, Electric Hoist, Electric Winch, and we are located in Henan Crane Industrial Park, which has good reputation by "Town of China Crane"
1. LD Single Girder Overhead Crane
2. LDP Single Girder Overhead Crane
3. Euro Style Single Girder Overhead Crane
4. LH Double Girder Overhead Crane
5. QD Double Girder Overhead Crane
6. Euro Style Double Girder Overhead Crane
7. QZ Grab Bucket Overhead Crane
9. QB Explosion Proof Overhead Crane
11. YZ Foundry Crane
Nucleon Crane Group is china famous Single girder Overhead Crane Manufacturer and double girder Overhead Crane Manufacturer.
See more:http://www.nucleoncranegroup.com
http://www.nucleonoverheadcrane.com
Email:info@nucleoncranegroup.com
If you have any questions, Please don't hesitate to contact me.