Overhead Crane General industrial Equipment
heavy duty Overhead Crane General industrial Equipment
QD double girder Overhead Crane General industrial Equipment is composed with Girder frame, Crane travel device, and the trolley with lifting and moving device. There are Pave the rail for the trolley move on the main girder.
Assemble the moving table on the outside of the two main girder, one side is prepare for the assemble and maintenance the crane move device, another side is prepare for the assemble of the trolley conductor device.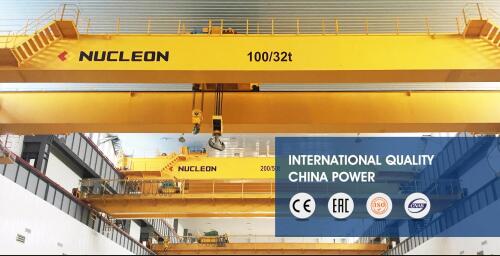 There are full field of view Cabin suspend under the main girder, there are joint control desk or single control box packed within the Cabin, assemble the sidelong ladder between the Cabin and moving table, The main girder joint with the two side end carriage which with the joint point in the middle.
Main Features:
1. Heavy Duty and High Efficient;
2. Suitable for any environment ( High Temperature, Explosion Proof and so on);
3. Long Life Span: 30-50years;
4. Easy for Installation and maintenance;
5. Reasonable structure and strong rigidity;
6. The speed can be frequency inverter speed control;
7. Control method is cabin control or remote control;
8. Depending on lifting cargo, crane can be equipped with hanging beam magnet or magnet chuck or Grab or C hook;
9. Crane is equipped with all moving limit switch, loading limit and other standard safety devices, to promise crane work safe.
Email:info@nucleoncranegroup.com
If you have any questions, Please don't hesitate to contact me.