Overhead Crane Cap 25 Ton
Indoor electric Overhead Crane Cap 25 Ton with hook is one kind of high/medium duty crane. It is composed with two sets bridge girder, two sets end carriage, lifting trolley, electrical control system and multiple sets safety devices.
LH double girder hoist trolley Overhead Crane Cap 25 Ton
· Loading capacity: Overhead Crane Cap 25 Ton
· Lifting height: Customized
· Span: 7.5 ~ 31.5m
· Power supply:220 ~ 440V,50/60Hz,3 phase
· Working class:A3 ~ A4
· Working temperature:-20°c ~ +40°c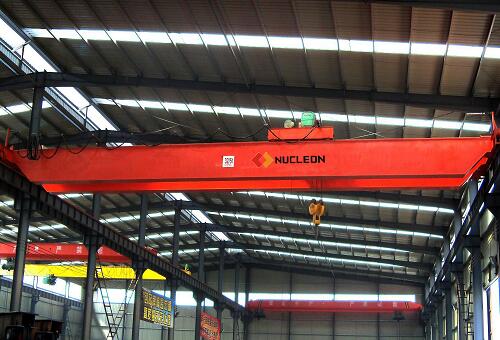 According to different working environment requirements, the double girder bridge crane can be designed with different lifting tonnage and working strength. The lifting capacity can reach 600 tons and the working strength can be designed as ISO A3, A4, A5, A6, A7, A8 (FEM 1Am, 2M, 3M, 4M) respectively.
Based on such a powerful design, the crane can be used in a wide range of applications, including mechanical assembly workshops, mechanical repair workshops, warehouses, stone processing workshops, steel handling workshops, metallurgical workshops, chemical workshops, power stations, material yards and so on.