Low Headroom Overhead Travelling Crane
The low headroom wire rope electric hoist is an electric hoist specially designed and developed for low headroom workshops and places with restricted height. The biggest advantage of low headroom electric hoist is the use of headroom height. Compared with ordinary wire rope electric hoist, the lifting height can be increased by 200~500mm, which ingeniously solves the trouble of limited low space.
The low headroom wire rope electric hoist product has the characteristics of compact structure, single lifting speed, double lifting speed, high effective lifting stroke, stable operation, etc., and it has a wide range of applications. Especially in newly-built factories, it can effectively raise the height of the stroke, reduce the height of the building, and reduce the building cost.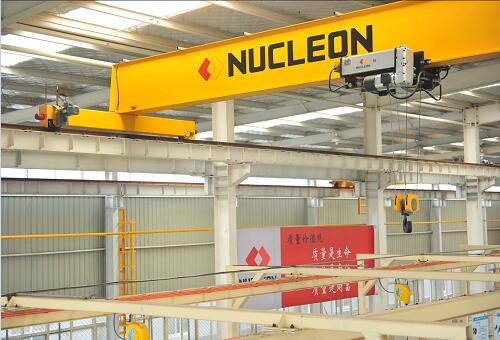 Low Headroom Overhead Travelling Crane Technical Parameter:
Lifting Capacity

T

1t

2t

3t

5t

10t

16t

20t

Span

m

7.5~22.5m

7.5~31.5

Speed

Lifting

MD1 hoist

m/min

8/0.8 (7/0.7)

3.5/0.35

CD1 hoist

8 (7)

3.5

Traveling of electric hoist

20

20

Traveling of crane

20/30

20/30

Wheel diameter

Φ270

Φ370

Width of trail

37~70mm

37~70mm

Operational Model

remote control; ground handle

remote control; ground handle

Working Duty

A3

Power Supply

According to your demands

According to your demands