China Supplier Double Girder Trolley Overhead Crane
China Supplier Double Girder Trolley Overhead Crane
QD type Double Girder Trolley Overhead Crane winch is mainly composed of bridge, running gear of crane, trolley and electrical device, etc. It is divided into two working classes:A5 and A6 according to the use grade and load-up condition.
There are three kinds of method for entering the platform of cab:from the side, from the end and from the top.
Safe slide wire or angle iron can be used for electric conduction of the crane; it can be either at the opposite side of the cab or at the same side of the cab.
Operation of the crane shall be finished in the cab completely.
Features:double beams, single or double trolley with main and aux hook, electrical system adopts Schneider, Mitsubishi, Siemens well known brand name.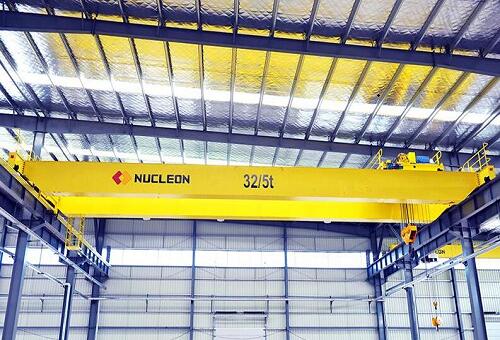 Lifting Capacity

T

5

10

16/3.2

20/5

32/5

50/10

Span

m

10.5-31.5

Speed

Main Hook Lifting

A5

m/min

11.3

8.5

7.9

7.2

7.5

5.9

A6

15.6

13.3

13

12.3

9.5

7.8

Aux. Hook Lifting

16.7

19.5

19.5

10.4

Traveling of Trolley

37.2

43.8

44.6

44.6

42.4

38.5

Traveling of Crab

A5

89.8/91.8

90.7/91.9

/84.7

84.7/87.6

84.7/87.6

87/74.2

74.6

A6

92.7/93.7

115.6/116

/112.5

112.5/101.4

112.5/101.4

101.4/101.8

75/76.6

Operational Model

Cabin; remote control; ground handle

Working Duty

A5,A6

Power Supply

Three-phase A.C. 380V, 50Hz or customized