Electric Single Beam Overhead Crane
The Safety requirement of Electric Single Beam Overhead Crane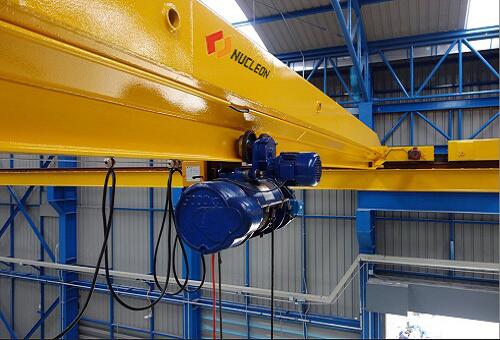 Electric Single Beam Overhead Crane electric operator cannot see directly boarding entrance. So are in the process of crane operation, Have personnel need to crane should first contact the crane operator, After gaining operators agree and parking personnel can up and down. Here involves the signal connection problem. In general such as door crane end beam, on and off the ladder and position of each set off contact box. And through the connection box of request to the operation room, To get on and off, someone needs to hoist up and down the electric hoist. The operating room request off a sound signal, To alert the staff can get on and off. Get the answer after, need to get off personnel can get on and off. Get off after the station to a safe location through the contact box sent to the operator on the acousto-optic signal is off. The operator can run the crane. If the operator accidental operation The consequences will be unimaginable. So set the gate on the rail switch.
All the door switch series supporting the zero pressure circuit when the door opens, The zero pressure loss of electric circuit, The crane cart control power outage, the cart can not run. This can ensure absolute safety when getting on or off. After the completion of closed door crane, the cart restore operation.
Its installation type USES linkage type, Driven by crane gate door switch.
The safety door switch can be used LX19 type travel switch, The rotating rod drives the contacts open and close, can automatically reset. The circuit is normally closed, When a door crane is closed, the switch lever releases its normally closed point By the spring pressure on their own. When the crane door is opened, the travel switch rotating rod is rotated by an external force, and the normally closed point is broken, and the zero pressure loop of the cart is broken. This approach has the advantage of crane operation Electric hoist crane door is closed, Travel switch is not affected by external force and work with their own spring. Not because of vibration crane and the stroke switch is not working properly, Cause the crane operation instability and even lead to accidents.