DOUBLE GIRDER ELECTRIC OVERHEAD TRAVELLING CRANE
NUCLEON Warehouse ELECTRICAL DOUBLE GIRDER OVERHEAD TRAVELLING CRANE
Two operating methods, namely, on floor and in the driver's cabin, have been designed for DOUBLE GIRDER ELECTRIC OVERHEAD TRAVELLING CRANE with hook cap. The cabin is divided into open-style and closed style. The cabin can be installed on the left or right according to actual conditions The operator can enter the cabin from one side, rear or top, which depends on the different user's requirements.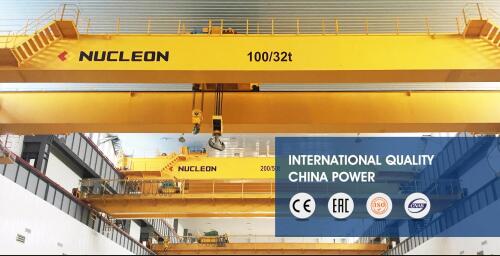 It is composed with girder frame, crane travel device, and the trolley with lifting and moving device. There is pave the rail for the trolley moves on the main girder.
Assemble the moving table on the outside of the two main girder, one side is prepare for assemble and maintenance the crane move device,another side is prepare for assemble of the trolley conductor device.
There are full field of view cabin suspend under the main girder, there are joint control desk or single control box packed within the cabin, assemble the sidelong ladder between the cabin and moving table.
The main girder joint with the two side end carriage which with the joint point in the middle.