Overhead Crane Specification
Single & Double Girder Overhead Crane Specification
HD electric single girder Overhead Crane Specification:
1. box-type shaped by wielding;
2. High quality carbon steel Q235B and Q345B;
3. the girder connected by high strength screws;
4. Welding seams are tested by X-ray and ultrasound;
5. Forged wheels;
6. Compact structure, small volume and light weight trolley;
7. Lifting mechanism is open type winch trolley;
8. Compact reducer motor drive, step less control, hardened gears and safety disc brake;
9. Good operation performance, step less speed regulating and running smoothly;
10. Main girders Shot blasting sa2.5 after welding to release internal stresses;
11. Painting high quality epoxy zinc-rich primer, and the thickness of oil film is 140μm;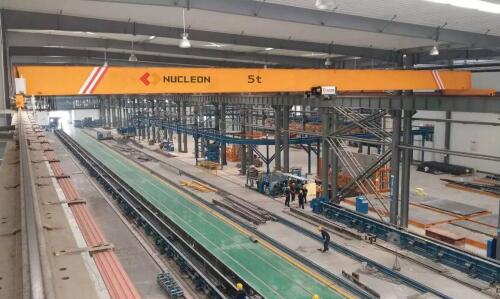 SPECIFICATIONS FOR EUROPEAN

STANDARD OVERHEAD CRANE

Capacity

(ton)

Span (m)

Lifting Height
(m)

Work Duty

Lifting Speed
(m/min)

Hoist Travelling Speed
(m/min)

Crane Travelling Speed
(m/min)

Rail

1

7.5-22.5

6-12

A5/2m

0.8/5

2~20

2~20

P24

2

6-12

0.8/5

P24

3.2

6-12

0.8/5

P24

5

6-12

0.8/5

P24,P30

10

6-12

0.8/5

P30

16

9-12

0.66/4

P43

20

9-12

0.66/4

P43
Double Girder Overhead Crane Specification
1.Demag Quality Nucleon Double Girder Overhead Crane with light dead weight, small wheel pressure and reliable performance is easy to operate.
2.Small wheel pressure and margin can cut down earlier stage project investment of workshop,
low noise, low energy consumption, energy conservation and environmental protection.
3.Wear well can lower maintenance and maintenance costs.
The structures of Demag Quality Nucleon Double Girder Overhead Crane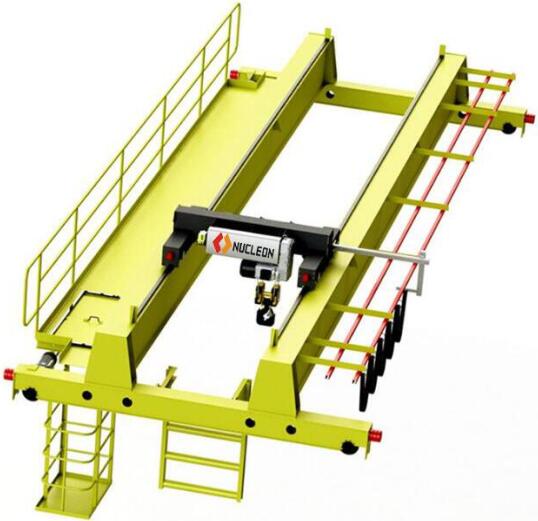 Lighting load(t)

5

10

16

20

32

50

Span(m)

10.5~31.5

Lighting speed(m)

5/0.8

5/0.8

5/0.8

3.4/0.53

3.3/0.8

053~3.2

4/0.66

4/0.66

4/0.66

4/0.66

2.6/0.6

0.4~2.4

10/1.6

8/1.3

3.4/0.53

4.95/1.2

0.82~4.9

Trolley speed(m/min)

2.0~20

3.0~30

Cart speed(m/min)

3.0~30

4.0~40

Lighting height(m)

6~12

Working group

A5