Remote Control Electric Travelling Overhead Crane 3 ton
Indoor workshop single girder Overhead Crane 3 ton, commonly called a bridge crane, is a type of crane found in industrial environments. An overhead crane consists of parallel runways with a traveling bridge spanning the gap. A hoist, the lifting component of a crane, travels along the bridge.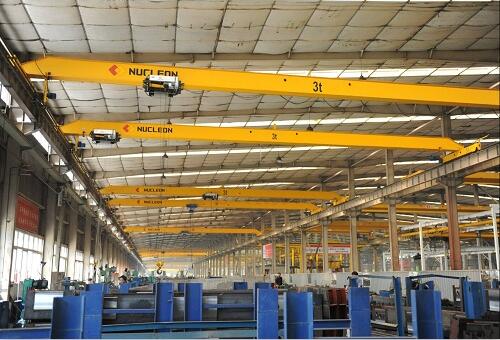 Indoor workshop single girder Overhead Crane 3 ton are commonly used in the refinement of steel and other metals such as copper and aluminium. At every step of the manufacturing process, until it leaves a factory as a finished product, metal is handled by an overhead crane. Raw materials are poured into a furnace by crane, hot metal is then rolled to specific thickness and tempered or annealed, and then stored by an overhead crane for cooling, the finished coils are lifted and loaded onto trucks and trains by overhead crane, and the fabricator or stamper uses an overhead crane to handle the steel in his factory. The automobile industry uses Overhead Crane 3 ton to handle raw materials. Smaller workstation cranes, such as jib cranes or gantry cranes, handle lighter loads in a work area, such as CNC mill or saw.
In many instances the cost of a Overhead Crane 3 ton can be largely offset with savings from not renting mobile cranes in the construction of a facility that uses a lot of heavy process equipment.