Overhead Bridge Cranes
Main Features of LDA model Overhead Bridge Cranes:
1). Light structure, easy installation and maintenance;
2). Widely used in different places for hoisting such as factories, warehouses and material yards;
3). Reasonable structure, strong bearing capacity ;
4). Low noise, soft starting and stopping ;
5). Safe and reliable operation ;
6). Low cost maintenance, long working life;
7). Strong box type, welding by machine hand.;
8). Wheels, wire rope drum, gears, couplings are processed by CNC machine center, TOP quality control;
9). Heavy duty slipring motor, Or Sq. cage motor with VVVF, IP54 or IP44,insulation class F or H, soft starting and smooth running
10). Siemens main electric parts are used for durable and safe operation.;
11). Prohibited to use in the environment with inflammable, explosive and corrosive media.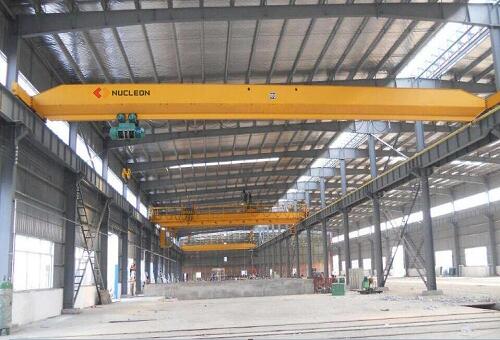 Overhead Bridge Cranes Technical Parameter:
Lifting Capacity

T

1t

2t

3t

5t

10t

16t

20t

Span

m

7.5~22.5m

7.5~31.5

Speed

Lifting

MD1 hoist

m/min

8/0.8 (7/0.7)

3.5/0.35

CD1 hoist

8 (7)

3.5

Traveling of electric hoist

20

20

Traveling of crane

20/30

20/30

Wheel diameter

Φ270

Φ370

Width of trail

37~70mm

37~70mm

Operational Model

remote control; ground handle

remote control; ground handle

Working Duty

A3-A4

Power Supply

According to your demands

According to your demands