China Nucleon Double Hook Crane
China Nucleon Double Hook Crane
Industrial Double Hook Crane grapples advanced designed crane for the low headroom and high lifting height demands. It has many advantages such as: Strong rigidity, light dead weight, outstanding structure design, long working lift etc. It could save your factory space and investment effectively.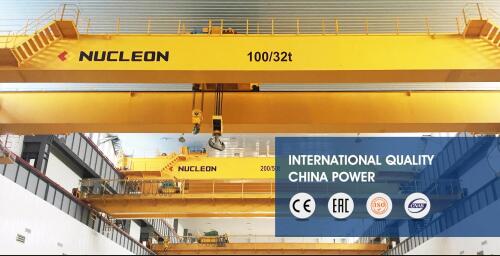 Its technology is advanced and design is based on international standard: DIN (Germany), FEM (Europe), and ISO (International)
European type double girder bridge crane grapples are double speeds, the lifting motor is double speed type,the cross travelling motor and long travelling motor are controled by frequency inverte.
High lifting capacity of this Double Hook Crane is designed with two hooks that means two independent sets of hoisting mechanism. The main hook is used to lift heavy objects while the auxiliary used to lift light objects,the auxiliary can also be used for collaborative main hook tilting or tipping the material. However, don't use the two hooks to lift at the same time when goods weight is over the auxiliary rated capacity.