6 ton Overhead Crane
Single Girder 6 ton Overhead Crane Remote Controls
Brief description:
HD Europe standard single Girder 6 ton Overhead Crane is our new designed crane for the low workshop and high lifting height demands. It has many advantages such as: Strong rigidity, light dead weight, outstanding structure design, etc. It could save your factory space and investment effectively. Its technology is advanced and design is based on international standard: DIN (Germany), FEM (Europe), and ISO (International). Its particular and special travelling structure is your best choice.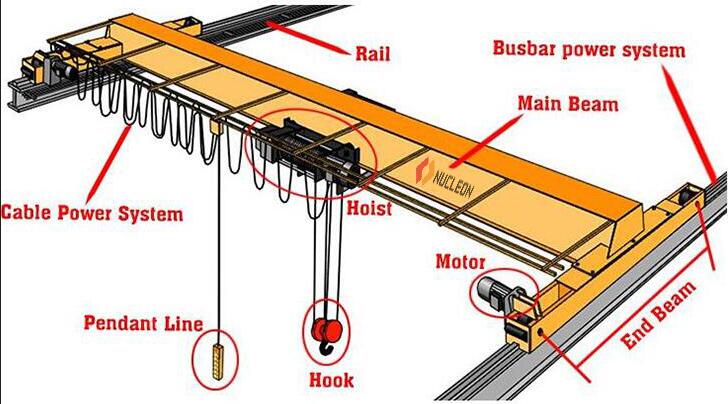 HD electric single girder 6 ton Overhead Crane could be widely used to handle materials in many industries' workshop and warehouse. such as machinery manufacture. warehouse. logistic. food. paper making, electronics industries workshop and other material handling situations. The lifting hoist adopts M5 working class with double lifting speed. motor with ABM German brand motor. Travelling motor uses SEW European brand in one motor gear motors. Cross and long traveling are variable travelling speed. Electric parts adopt Siemens brand. The protection class is IP 54 high class. The working class can reach to A5/M5 class under ISO standard.
Main Features of HD Model 6 ton Overhead Crane:
1). Single welding box girder
2). DIN/FEM standard deflection
3). Whole length CNC cutting for complete web plate, high deflection accuracy
4). High quality automatic welding and NDT inspection
5). Shot-blasting Sa2.5 for complete girder after welding, stress release
6). High tension bolts mounting between girder and legs, life time safety connection
7). Compacted gear motor driving, stepless control, harden gear, safety disc brake IP55
8). High protection class IP55, F class, 40% ED
9). Excellent driving properties, stepless control, smoothly moving
10). All hoist and crane movements are independent and can be run simultaneously.